Castles...I want one.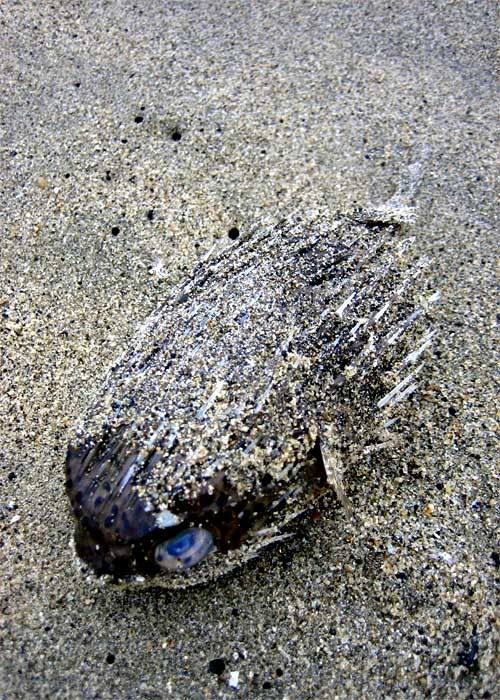 So, this is a dead porcupine fish I found washed up on the beach at Karatsu last weekend. It roughly describes how I felt the morning after Yoshi's farewell party, as he is departing for China. I haven't really known Yoshi for all that long, but he seemed to be a very worthwhile person to get to know in the short time I've known him. I told him as much too. It was one of those parties at a restaurant where the action spills out onto the pavement, as does the pre digested food and booze of a few different people, the police are called but then bugger off as the owner of the place knows them and explains what is going on. This has been the major event of the past week, except for when one of the senior students at school got so stressed out over exams she flipped and ran away, which caused general excitement around school for about fifteen minutes before she was located. Excitement stemming from the high rate of suicide in Japan perhaps? Maybe that's just me trying to dramatize things. Again. Dramatize isn't a real word or term is it? If it is it is a silly term and I should think up something new to describe taking things one morbid step too far.

In all honesty I have very little recollection of this photo being taken at all and was rather pleasantly surprised when I checked my photo's the next day. Yoshi is the man on the far left being fed and the man next to him let me ride his mountain bike for nearly a year before requesting it back due to his being harassed by the police for being a foreigner. Well, to put that in perspective he was a foreigner driving without a valid Japanese license. But they stopped him because he was foreign.

This is the almighty Karatsu pine forest that wraps around half the bay, is infested by crows, snakes, enormous spiders and on the whole is taken straight from a Dr. Suess storybook with its bizarre twisting pine trees that loop and distort themselves seemingly on purpose. Needless to say I love the place.

When I first learned I was coming to Saga, one of the first images I found on the web was of Karatsu Castle and I hadn't actually managed to get there until last weekend. Here it sits above the city (think there's an ordinance that forbids buildings to be built higher than the castle, I agree with this measure) with its Aeria of Eagles. This is cool because of three reasons. Firstly I just learned the correct term to describe a group of Eagles, Aeria, secondly, you just did as well, third and most importantly this castle has huge screaming Eagles flying around it. I'm sorry, it's very hard to get more impressive than that.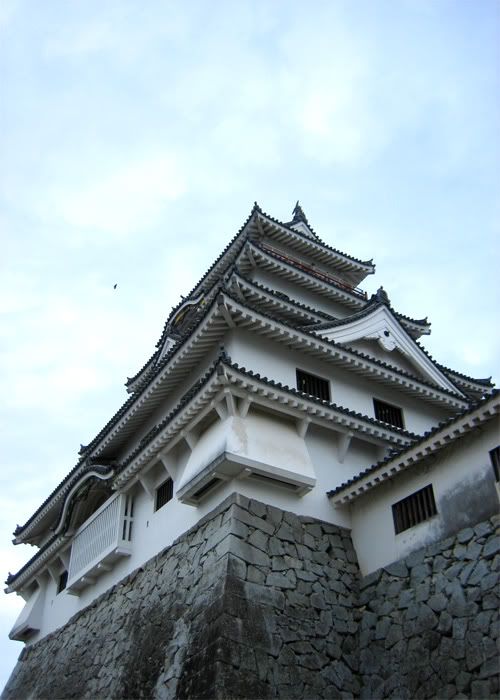 This is a more imposing shot looking upwards from the lower battlement staircase. Again, may I point out that bird is in fact an Eagle of some description, and they fly down quite low sometimes and scream. They are not kept, in any sense, on purpose. There are no cages, just the protected forest areas where they live. They choose to live around the Castle. They use the updrafts it generates to rise up higher and higher and then fly out over the bay to catch fish. It's a pattern, you can see two or three of them always circling slowly up or down over the castle. They never seem to flap their wings. Just sitting, motionless in the air currents.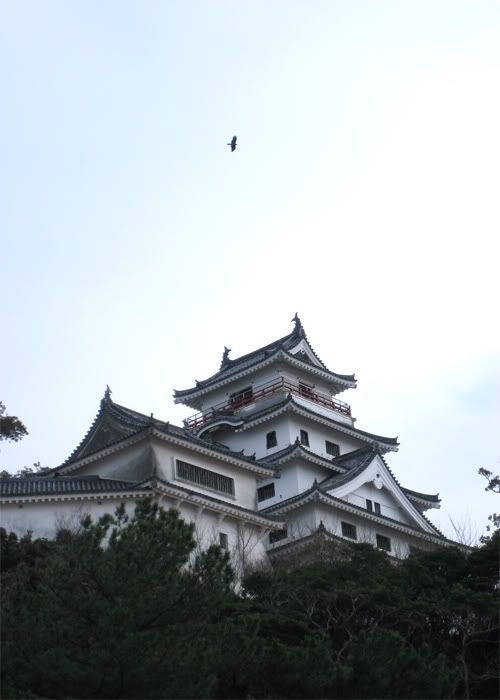 This photo is taken from the beach on the other side of the castle. It took ten minutes of waiting for an Eagle to be in just the right place.

Please be enamored of an image of me, bathed in white light, viewing the bay from the top level of the castle. I am busy surveying the realm in front of me, with a serious face, musing on heraldry and pondering the fate of my hordes of surfs who are working in the fields behind me as did the Lords of old from this very spot.

This is a panoramic image of what I was looking at. Its seven individual shots stitched together into one. You can get the basic idea, but if you want to see a larger one in more detail, let me know by email or by commenting and I'll send you a larger version. Not for the bandwidth impaired.

However, the Castle itself is mostly rebuilt after it was destroyed by fire in the 1960's, so the inside is a museum containing many relics hundreds of years old. These two blades pictured above are the real deal. These are three hundred year old Katana. They have small nicks in them from being used in war. Placed into a river, they will split a leaf if it passes over them as it runs downstream. A sheet of rice paper dropped on top of them will be sliced in two. They are still sharp. People's lives have been ended on their edges. If you carry this blade and perchance meet God, God will be cut, and he will cry the red tears. You should be listening to the Kill Bill soundtrack while you view these. This is the kind of relic level weapon that never leaves Japan anymore. Look on them and tremble. I was and that is why there is a slight blur. No flash possible as it would bounce back off the glass of the display case. Apologies.


On a slightly lighter note, here is a photo of me and a monkey. An old man was walking his pet monkey through the train station and it scampered over to me and Fumiko and said hello for a while. Although I have seen lots of monkeys in Zoo's, nothing compares to the fun of playing with a monkey. They have little tiny hands! Not paws, not fins, not claws or wings but hands. Of course I knew this before, but the full reality of the concept hadn't dawned on me until this guy was playing with the zips on my jacket with his fingers, that looked just like mine. He belonged to an old man, who looked like he had the time and money to look after a monkey properly because they need lots of attention and care otherwise they aren't as sociable and healthy as this one was. Pete put it best when he said there is nothing like a mint condition monkey.
That was the weekend. New chickens out soon I hope.