Photos from a city
Recently I have spent much more time in Fukuoka City than I did last year, so I thought it might be a good idea to take the camera in one day and see what presented itself. Yesterday was spent looking in shops at all manner of items and having lunch in exotic places, in the cold.
Possibly the only good shot of the day I missed was annoyingly my own fault for being to slow with the camera. We were crossing the road when the air above us started to split open. Fukuoka Airport is in an urban area to the left of the central city and the incoming flight path for landing aircraft runs right over Tenjin. I should have been quicker when I heard the noise, but when I turned a JAL Boeing 747-400 appeared from behind a building and lumbered its way over us at a low level landing approach altitude. Very impressive.
I remember when I used to have hardly any photos at all. Now I have simply gigs of images sitting here. I have 4.35 gigabytes of still images. Its double that if you take the backups on the secondary hard drive into account. It was good to read that Maxell will soon be releasing holographic storage media. A few more years at this rate and I'll require it.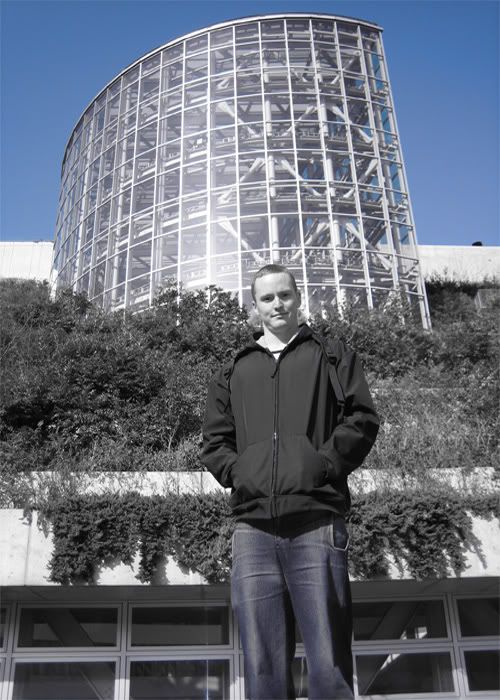 Yes it's me. That's what I look like now, or rather looked like yesterday, but there's not much difference between the moment of then when I was trying not to make a silly face in front of the camera, the moment of now when I'm writing this and eating anin tofu, and I dare say that in the moment of later on, when you read this, I will still bear a remarkable similarity to the image above. This next image is of a tree that stands in a park, near the hotel I stay at. Its surrounded by buildings on all sides which provides shelter from the wind, which explains why it maintains its golden foliage. It looked rather nice with the morning light behind it shining through, and it came out well in the photo. One was pleased with the result when it came up on the monitor back home
This is the only dog that wanted to play with Fumiko all day. I leant down and said "Hey doggy" and he looked right into the camera. Perfect.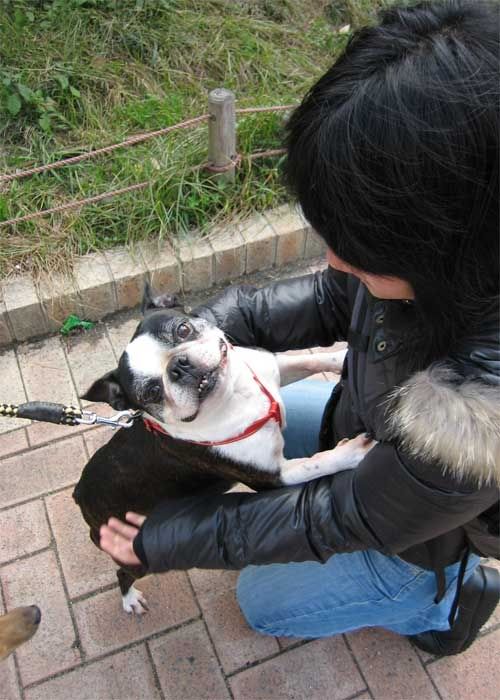 This is the Acros Building. It is part city hall and part function centre. Personally I think that the mix of natural components into architectural urban design is rather good and should be undertaken far more often. The headline photo is of course taken from the observatory at the top of the structure. Just for the sake of reference, it's because we sat at the top for a while that I know about the flight paths for aircraft into the airport.
The walk up to the top through the gardens seems quiet and removed from the rest of the city. There were very few people there. Waterfalls and ponds dot the pathways and now in early winter some of the trees have stunning colors. Used the color selection feature again in this composition to bring out and highlight the vivid red of the foliage. The full color shot looks good also, but between the two this is the better.
Again, I was playing with color selection. I zoomed in and sampled Fumi's skin tone and then zoomed out to take the shot. The camera also found the same tones in the fur around her jacket and in some of the leaves behind her. Combine that with the sudden beam of light that shot out from behind a cloud and you have one of the best shots of the day.
This is a Christmas tree, maybe eight to ten meters high silhouetted alongside some of the architecture in the Canal City shopping complex behind the Hyatt Hotel. Very large well maintained shopping centre, thronging with people and tasty food. I am afraid to bring my mother to places like this as she would probably feel the need to set up camp somewhere along the river like a mobile infantry shopping battalion until every bargain was exposed, or until she ran out of financial ammunition.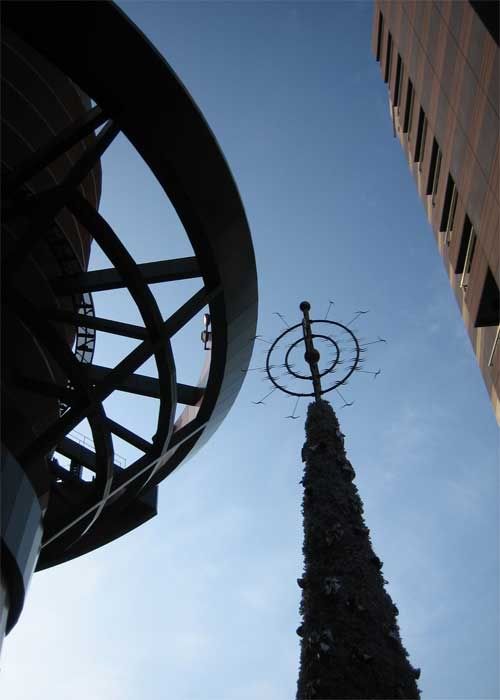 This is the gigantic Mitsukoshi department store in evening twilight. I like this one because the light is timed just right. You can still make out the shape of the exterior of the building and get the details of its construction, yet the interior lights are bright enough to give an idea of the internal layout, especially the ten floors worth of escalators. This building is linked via underground shopping arcades to perhaps four or five other department stores and shopping complexes of equal or greater size. Again, afraid to ever bring my mother here for fear of losing her, or at least having to come back the next day and collect her exhausted frame from the floor of yet another clothes store that designs for middle aged ladies who dress impeccably, appreciate fur and are the same physical size, or lack thereof, that she maintains.
I spent a good deal of time checking out camera equipment as I want to buy either a decent digital SLR still camera, or a good video camera before I leave Japan. This was the most exorbitant accessory that we were presented with during the day. Cannon's enormous EOS Digital EF600mm Telephoto lens. It was very impressive. On special at only 1,100,000 yen, or around 12 thousand NZD. Included is Fumikos hand to give an idea of scale.
Also had a look at the brand new Cannon XLH HDV camera that has been released. You could happily shoot an amazing looking feature film with it. The leap in picture quality over the old XL1 and 2 DV cameras is jaw dropping. They had an XL1 linked up to one monitor and a new XLH on another. Wow. A scoop at a mere 946,000 yen. I may be shopping at the end of a price range slightly out of alignment with my own yearly earnings at this stage.
We did find one bargain during the day. In Yodobashi Camera a salesman sat on top of a ladder in the middle of the mp3 player showroom floor. He was yelling into a megaphone and trying to sell a bunch of Creative Zen 5gb mp3 players, the newer baby brother to my 20gb player. Only the orange color on offer and he had a stack of maybe 7 or 8 units on special, reduced from 25,000 yen to15,000 yen. Major saving. Fumiko had decided earlier on in the day she wanted to buy one, she liked orange so she pounced over and bought one, at the same time as an Australian lady also picked one up. We went upstairs and sat in massage chairs for maybe twenty five minutes and when we came back down the rest of the stock had been sold. Just as well Fumiko didn't wait to think it over.